Powering New Orleans and Louisiana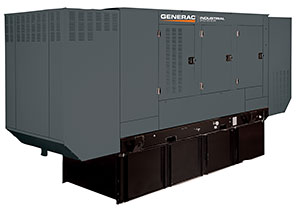 We are your sales and rental source for Generac and other power generators. The New Orleans area and the rest of Southern Louisiana have trusted us as their source for Generac Power Systems for many years. We offer standby power generators for a wide variety of industrial and commercial applications including digital on-board paralleling – Modular Power Systems (MPS), QT Series generators, and Bi-Fuel generator systems.
Industrial Generators
Companies throughout the New Orleans area and other parts of Louisiana have relied on GenSouth as "The Power Generation Experts" to provide reliable and cost effective emergency power solutions. We take great care to assess, design and select the proper system and components that will meet your automatic standby power needs now and into the future. Generac's range of reliable industrial standby power generator systems are designed to meet all critical back up power needs. Generac industrial generators are powered by different fuel choices and configurations including:
Diesel Fueled Systems
Natural Gas or LP Fueled Systems
Bi-Fuel Systems – Diesel & Natural Gas Fueled
Single Engine System Configurations
Modular Power Systems (MPS) – Scalable and flexible.
Generac offers more options, sizes and configuration solutions than any other manufacturer. Whether you have an application that requires a single generator or an application where redundancy is a critical requirement, Generac offers the systems that meet your needs.
Learn more about Generac Industrial Power Systems.
Mobile Generators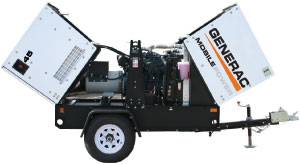 Generac manufactures diesel-powered mobile generators providing power for remote site locations and critical auxiliary power for construction, gas and oil field operations, telecommunications, and more. These mobile generators can also be used with a transfer switch for backup power in an emergency.
Commercial/Residential Generators
We can customize an emergency power system for businesses such as shopping centers, restaurants and business centers as well as large homes. Options include:
QT Series and Protector Series – highly affordable natural gas, LP or diesel fueled solutions designed specifically for the commercial market ranging in sizes from 25 – 150kW.
Larger customized systems for single phase or three phase applications